Walking Chair Design Studio

News
STATE-OF-DESIGN-BERLIN — a newly founded design festival — presents a series of SISTER BLISTER light object at the exhibition SOMETHING FROM NOTHING.
Karl & Fidel will be the next few days in Berlin and lead a public discussion/workshop on the topics HEALTH + DESIGN — DESIGN & HEALTH.
Festival curation: MAX BORKA, ALEXANDRA KLATT www.stateofdesign.berlin
WE CREATE THINGS & SONGS
Design in Vienna: That is not only Thonet and Wiener Werkstätte, Otto Wagner and Lobmeyr, but also young wild designers like Walking Chair… Peter Stuiber, 2007 in Design & Wien, Metro Verlag. Walking Chair Design Studio GmbH was founded by the two designers Fidel Peugeot and Karl Emilio Pircher in 2003 and within a short time has established itself as an international trademark and a buzzling lab for unconventional design ideas.
GOOD DESIGN IS MULTI-FACETED
Fully committed to the idea that good design is multifaceted, we work as idea-finder in various dimensions of design (from a to z) such as: architecture, bar design, brand development, event design, exhibition design, graphic design, interior design, logo design development, multimedia, music, product design, type design, (wireless) webdesign & z-design. For a better overview we have clustered our work and achievement in the following four areas:
• Interieur accessoires and furniture
• Exhibitions, architecture and space concepts
• Graphic design, logos, typography and corporate design
• Things & Songs
We love clear ideas, we love movement, we love to surprise and we love to describe and express our products with songs
GOOD DESIGN MOVES
We are convinced, that the origin of all design solutions is neither form nor function but a individual and personal need. Led by the philosophy Design Follows Content, we combine new and pioneering elements with highest practicability. Our design not only stands out by its unconventional creativity and special humour, but especially by its unique focus on solutions that touch and move people.
Our design philosophy is based on the idea to develop solutions and ideas together with our clients. We especially appreciate clear briefings, good dialogue and joint definitions of content. Based on a productive and stimulating exchange our development work will then allow us to achieve the goal. Ping Meets Pong.
2D + 3D = 5D — COMBINING DESIGN KNOWLEDGE IS EXPLOSIVE
We are working in a very lean structure consisting of a core-team of experts coming from 2D and 3D and a network of freelancers and experts who support us on a regular basis. This allows us not only to offer classical design work but also guarantee the realisation of our ideas, as we can provide in-house engineering competence.
WALKING CHAIR DESIGN STUDIO Karl Emilio Pircher & Fidel Peugeot, photo © Ditz Feyer
TEAM
FOUNDER: Karl Emilio Pircher, Fidel Peugeot
Office Management: Christine Riedl
Thanks to our Team (since 2003): Andreas Graf, Annika Fröhlich, Antoinette Bader, Barbara Pichler, Catharina Elling, Cedomir Vavic, Christian T. Thurner, Christine Riedl, Christina Köberl, Claudia Larcher, Cosima Reif, Daniela Overbeck, Daniela Prossliner, Elisabeth Gruber, Eva Diem, Giulio Polita, Heinz Ortmayr, Helga Aichmaier, Irina Koerdt, Isabelle Baumgartner, Jan Bernstein, Joel Burri, Johannes Heinzmann, Julia Hendrysiak, Kathrin Kofler, Katharina Schildgen, Katharina Kleiner, Katja Kulidzhanova, Klaus Plank, Lisa Schmitt, Lucia Jarosova, Magdalena Milly, Nina Reisinger, Nina Urginovich, Peter Duniecki, Peter Mahr, Petra Maria Eder, Pia Scharler, Rike Hofmann, Robert Kraska, Rupert Gowar-Cliffe, Ruth Koch, Sarah Kirschner, Stephanie Jedek, Susanne Magedler, Sylvia de Angelis, Ursula Vischer
If you want to join our team or are interested to do an internship at WALKING CHAIR, please send us your application. A short mail is enough. Present yourself as you are and share with us the following points:
• Who are you?
• What is your current situation?
• What do you intend to do?
• Why do you want to work with WALKING CHAIR?
Please enclose a structured CV and your certificates with your email.
WALKING CHAIR DESIGN STUDIO since 2004 we've been working in a former viennese coffee house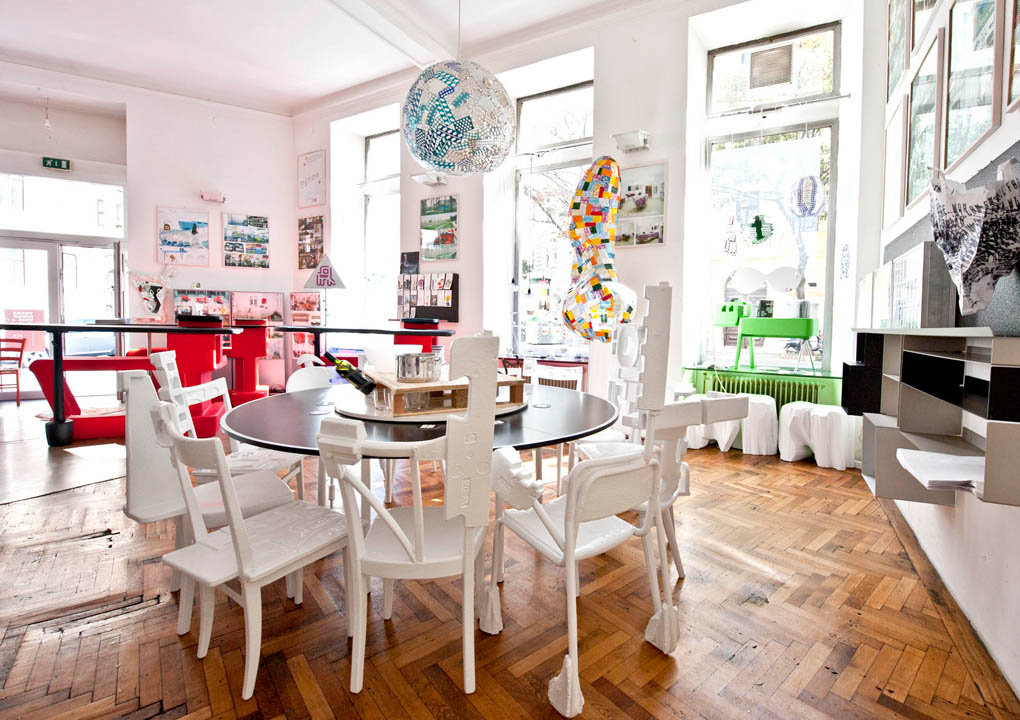 WALKING CHAIR DESIGN STUDIO inside the Studio, 2011