AQUANA — FORMULA AQUA
AQUANA — FORMULA AQUA based on the concept of a motor racing track formula aqua was designed to be a through-flowing swim circuit, the whole park area covers more than 40.000 square metres
AQUANA — FORMULA AQUA landscape architecture, terraced relaxation area with view over the Formula Aqua water race track
AQUANA — FORMULA AQUA handcrafted stainless steel facade — Formula Aqua main building inspired by the water's surface, made by craftsmen from Banja Luka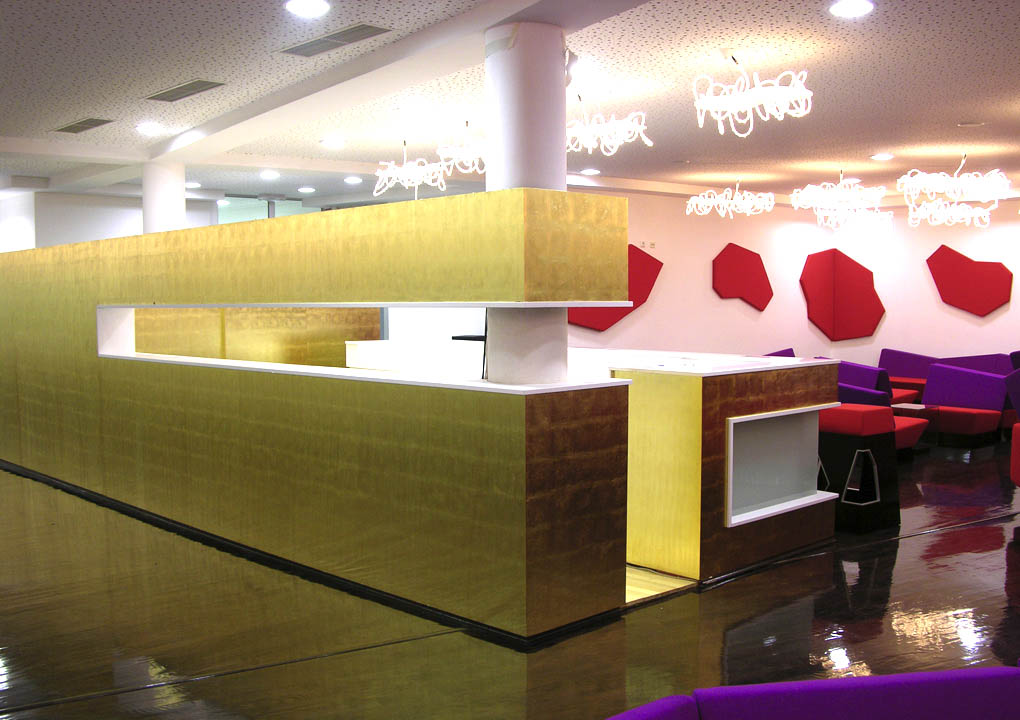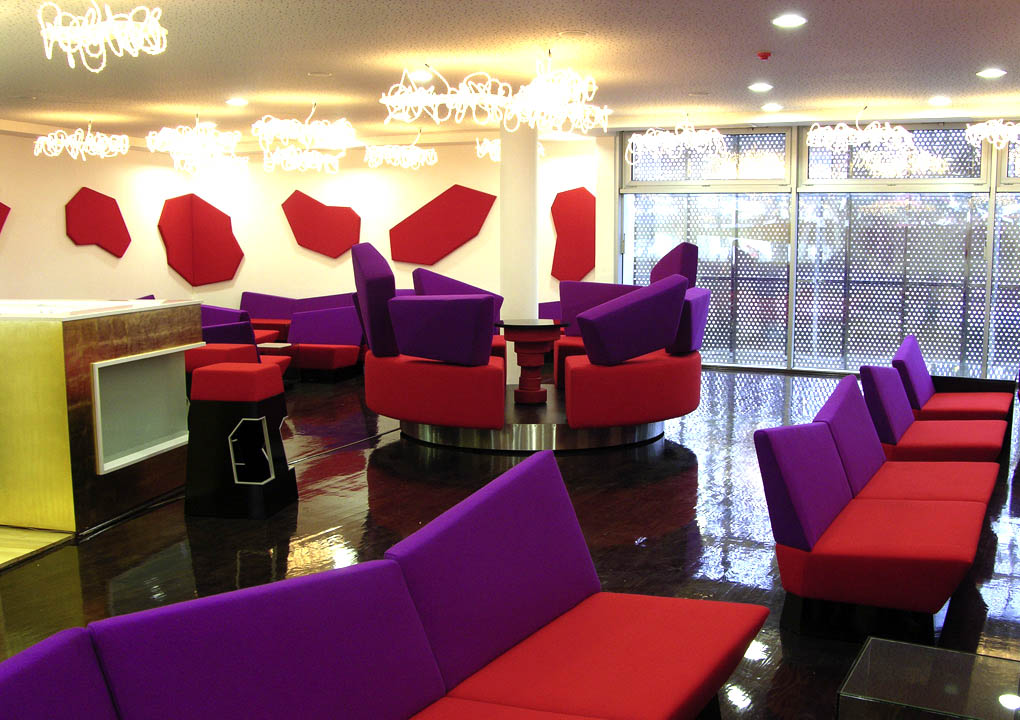 AQUANA — FORMULA AQUA Self service area for swimming guests, public restaurant and the public bar with view over the waterpark, featuring Cloud Lamps, Banja Luka Chairs & Panorama Sofa
Architectural project at Banja Luka, Bosnia–Herzegovina The rearrangement of a 4 hectare open air swimming pool park, in Bosnia-Herzegovina became the largest Walking Chair project so far. Banja Luka's city council initiated the restoration of the aqua park which was completely destroyed during the Yugoslavian civil war, to offer new leisure time facilities to the public. According to the architectural concept of Walking Chair, the spacious area was equipped with an outdoor swimming pool including all facilities as well as a gastronomy area with 3 restaurants (pizzeria, gourmet restaurant, and bar).
The "Formula Aqua", a water race course right at the centre of the aqua park, is surrounded by a terrace-shaped lawn which additionally serves as roofing for a subterranean garage. The pool and lawn area is bordered by the aqua park building which also marks the northern area. The front of the building faces the south side as well as the swimming pool. The futuristic facade made of bend, stainless steel was especially developed by Walking Chair. The reflective façade which is shaped like a moving water surface even mirrors the moonlight at night. As part of the interior design, Walking Chair developed the Cloud Lamp, the Banja Luka Chair as well as the Panorama Sofa. The water park is surrounded by a park area which was also redesigned. Almost the whole original tree population was retained. The creation of roofed, subterranean garage spaces was an efficient way to provide some extra space.
In spite of limited financial recourses and various challenges in connection with the local structural engineering, Walking Chair is happy to present the best possible results and is proud of building and designing one of the most modern buildings in Banja Luka. The project was realized in cooperation with Atzwanger AG, an Italian water technology specialist.
Year: 2004–2007, Design fields: Architecture, Landscape architecture, Interior design, Furniture design
Walking Chair products: Cloud Lamp, Banja Luka Chair, Panorama Sofa